AirNav Flight Tracker Enterprise is the easiest way for an airline to comply with the latest IOSA/ETOPS flight tracking requirements. This system had been developed and is being used by Major Airlines, to track flights where radar tracking capabilities do not exist.

Installs in a few minutes and is very easy to use. You just need a computer with an internet connection. Anyone with a set of username/password codes will be able to know where your aircraft is in real-time. The software is commonly used by flight crews, flight operations and airline administration personnel.


It an ETOPS requirement to have a flight tracking and monitoring solution at your flight operations center.
It is also an easy way for your operations and crews to get in touch with your fleet it real-time with a simple computer connected to the internet.
Contact AirNav Support for an Official Quotation
1.
AirNav Systems technical support will help you to find an automated way of sending copies of ATC flight plans to a specific email address.
2.
Use the software installed at your flight operations center to update flight departure/arrival times or have it done automatically.
3.
Login to AirNav Systems server, using a simple browser to access the status of all the aircraft of your airline in real-time. This site is available in any computer with an internet connection in any part of the world.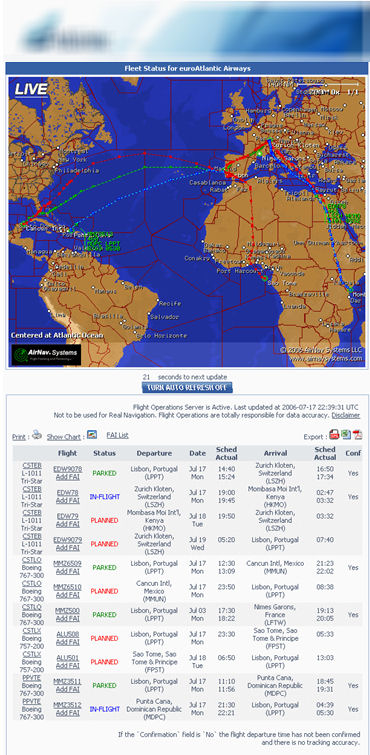 Web Based Interface (what the user views when accessing the system on a computer with an internet connection).
This is a screen shot of what your users will see when accessing the server to know details about your fleet in real-time
.

On the top you can see a graphical projection with the flight plan and flight position/progress
.
On the bottom you can find the flight list table.
Page content is refreshed automatically each minute.
Details shown for each flight:
- Aircraft registration
- Aircraft Type
- Flight ID
- Status (Planned, In-flight, Landed, Parked)
- Departure Airport
- Arrival Airport
- Scheduled and actual Departure Time
- Scheduled and actual Arrival Time
- Status of data accuracy
| | | |
| --- | --- | --- |
| | | |
Track your airline flights in real-time
Minute by minute updates on flight position and status
Flight Location Display on a dynamic map with ATC, country and other relevant data layers
Easy installation (no more than 5 minutes needed)
Based on the award winning AirNav Systems 3D multi-window map interface
Several flight status available: PARKED, LANDED, PLANNED and IN-FLIGHT
Real-Time weather information
Windows standalone application to be installed on your flight operations
Access data on airborne, landed or planned flights