| | |
| --- | --- |
| | |
AirNav RadarBox, the world's best selling and most advanced Real Time Virtual Radar. Designed by Professional Pilots and the first and only ADS-B receiver with a presence in space.

AirNav RadarBox is the closest you can be to real world aviation without leaving your chair thanks to next generation Radar decoding. By decoding ADS-B (Automatic Dependent Surveillance Broadcast) radar signals, you will be able to see on your computer what real Air Traffic Controllers see on their screens in Real-Time. Flight number, aircraft type, altitude, heading, speed are all updated each second. Included is the award winning software interface developed by the world's leader in flight tracking and monitoring solutions, AirNav Systems.




Latest News
RadarBox ADS-B receivers are fully compatible with RadarBox24.com mobile solutions

Visit RadarBox24.com
RadarBox 3D Officially Used in the Boeing 787 Dreamliner Project Read More
AirNav Systems announces collaboration with Japan Airlines (JAL) Read More
RadarBox - The First ADS-B Receiver in Space Read More
| | | |
| --- | --- | --- |
| | | |
For the first time a Virtual Radar integrates Real-Time and Networked 3D Flight Tracking.
Worldwide coverage. Over 60 aircraft models and 700 liveries.
More Screen Shots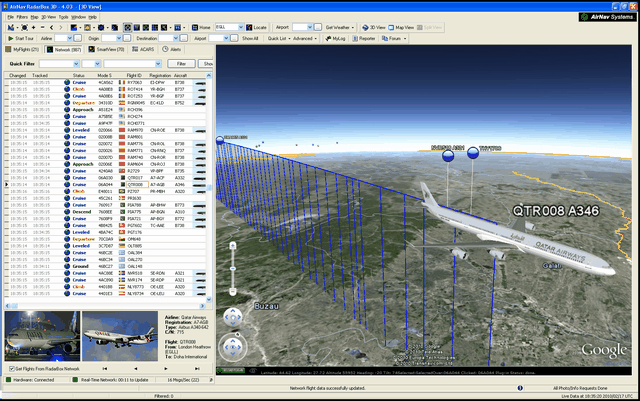 This is the standard 2-dimensional version that has for so long, been regarded as the most reliable and stable virtual radar platform, and the only one that does not rely on third party plug-ins - which cost!
More Screen Shots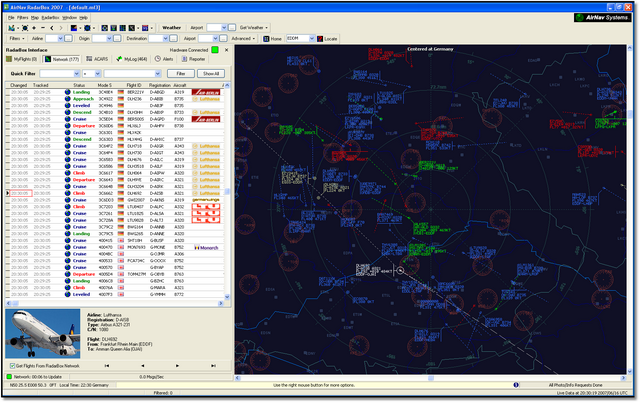 Presentation Leaflet:
All the information you need in 4 pages

Documentation and Video Support:
Download AirNav RadarBox Docs and Manuals

Magazine Articles:
RadarBox Reviews
Why RadarBox:
Deciding between RadarBox or our competition?
Differences Here
Forum:
Join our Community and visit the
RadarBox Forum
to learn more.
Translated Help/Manual:
available in German, Spanish, French and
other languages
AirNav RadarBox Network is now available in real-time for every user, not just professionals, without Any Limitations.
Subscribe now
a and start watching flight movements live, all over the world, in real-time, on your computer.



RadarBox Hardware Unit

USB Cable
Antenna
Quick Installation Guide
Setup CD with Software
| | | |
| --- | --- | --- |
| | | |
AirNav
RadarBox
Pro
AirNav
RadarBox
3D
Real-Time Radar ADS-B decoder hardware included
No need for an external power supply
Plug-and-play USB connection
Light weight easy to carry aluminum box
Track local and network flights in real-time
Flight ID, registration, altitude, speed, heading and vertical speed
Accurate Aircraft information daily maintained by a team of volunteers
Navigational Aid information powered by Navigraph
Based on the award winning 3D multi-window map interface
Easy plug & play USB connection, no complex time consuming setup
ACARS Decoder interface
Generate and share reports automatically
Share screen shots with your friends
MyLog: log all and share with your friends all the aircraft you receive
Alert generation for specific aircraft or in-range flights
Radar player to review airspace recordings
Editable 400 thousand callsign database included
Automatic detection of user location
Fully integrated 3D Flight Tracking
Embedded application Google Earth Interface
Over 600 Models/Liveries Included