So you have visited this site and have no idea of what AirNav is all about?
Did you know that it is really easy, from your home, to get in touch with the real aviation world?

Let's start.



If you don't have an airband receiver (a radio to receive airband communications) and want to track in real-time thousands of flights with extreme accuracy the answer is simple: AirNav Live Flight Tracker.

You will be able to track in real-time more than 5000 flights, Live!



For further details please go to AirNav Live Flight Tracker page.

Do you have an Internet connection? If affirmative, by using AirNav Suite 4, you may track several flights all over the world. You will be able to see how traffic is distributed in the main oceanic areas, the Atlantic and the Pacific. Some incredible views of the world's airspace may be seen directly from your home:
Oceanic Internet Flight Tracking

AirNav Suite 4 Screen Shots
Panoramic views of Flight
over the Atlantic
Do you have an airband receiver (a simple radio that may receive aviation communications)?
These kind of radios may be found in any electronics shop. In the USA they are usually found at any Walmart or Radio Shack Store. A simple $80 USD receiver will do a good work. Check this page for airband receivers.
Turn on your radio and depending on the country you are in, select the proper ACARS frequency (131. 550 in the USA, 131. 725 in Europe, read AirNav ACARS Decoder Help for details). Then with a simple audio cable, connect the audio output of your radio to the line-in of your sound card. Using AirNav ACARS Decoder you will start to receive thousands of digital messages sent from aircraft and ground stations.
This type of communications between aircraft and ground stations is called ACARS. For more details about it please visit the best site about ACARS on the Internet, www. acarsonline. co. uk
ACARS Decoding

An example of an airband receiver
A simple $80 USD receiver
will do good work.

Airnav ACARS Decoder Screen Shots
By connecting your airband receiver to the line-in of your sound card, using a simple audio cable, you will be able to receive thousands of messages.
You will be able to collect aircraft registrations to know if you are receiving messages from a flight for the first time or even see photos of the received aircraft. That's real photos of that real aircraft, not photos from a similar one. The program will return you a search over airliners. net airline photo repository, the biggest in the world, with more than 200 thousand photos!

If you have an HF airband receiver, more expensive than the small receiver above, you can receive and decode signals from flight sin the most remote places of our planet. This signals are called "Selcal", and it is sent from the controller to the pilot. To decode it, you can use AirNav Selcal Decoder . Just connect the audio output of your HF airband receiver to the line-in of your sound-card and the signals will be received.

And what about if you have all or any of these sources of data (Internet, ACARS or Selcal) and want to get the most of all of them? The answer is AirNav Suite 4.

This Software will get, work and organize all data received. You may even type any data manually. Flights sending position data will be tracked using semi-intelligent decoding routines.

Here are some features (for more details click here):
Main Features:

Completely rewritten software
New management of data
New ACARS and Selcal real-time Interfaces
ACARS, HF and VHF real-time Tracking and Monitoring
Internet Semi real-time Tracking (300 flights/hour worldwide)
Completely renewed interface
View photos of tracked aircraft
Automatic flight information in Terminal mode
real-time Weather Information
Information Ticker and Auto Time Set
No more need for BDE
Backup of database data
New Log and Map file formats
Sunrise/Sunset views
Compatible with all ACARS decoders
Supports DDE (Dynamic Data Exchange) and FWD (File Write Detection)
Multi-Window Tracking
New All Heard Aircraft Management
Unlimited number of tracked flights
Unlimited number of waypoints/flight
Accurate estimation of times and waypoints
New Online Help
ACARS and Selcal Quick View
New Flight List Panel

By being able to receive data from 4 different data sources, AirNav Suite 4 will not only work but will also show you in an easy and organized way flight data and track flights with position data. It will even show you photos of the received aircraft.
Flight Simulator in not a Simulation anymore!

What is it about? No longer your traffic will follow the published schedules of airlines, as first generation AI traffic products did, or optimized schedules for the Microsoft Flight Simulator 2004 world, as MyTraffic does - now you will jump into the traffic as it is in real world - your simulation will initiate one minute before you fire up Microsoft Flight Simulator 2004.

Every canceled flight, every delay, every extra flight will show up, live instead of records.
Sounds complicated? Not at all. You just start a small program that fetches the necessary data from AirNav Systems servers and starts a converter that creates a traffic scenery file - once this is done you start Microsoft Flight Simulator 2004. No longer you waste your time with optimizing traffic - you are live.
Click here for more information and free trial download here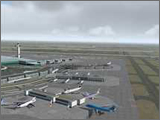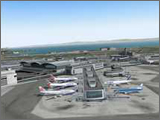 AirNav Systems brings you the easiest way to
keep in touch with the skies of the globe!